Pig's Trotters Cromesquis with Fallot mustard "à l'ancienne"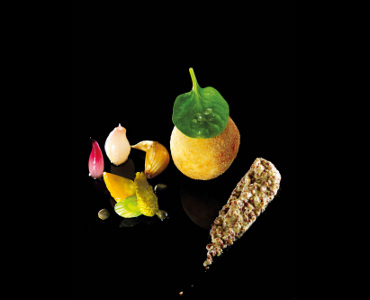 Warning: Undefined variable $ingredients in /home/clients/7f9f49aa8db02579df0da9a82d301e49/sites/fallot.com/wp-content/themes/fallot_2018/single-recette.php on line 34

Serves 4
240 g cooked, de-boned pig's trotters
100 g Fallot mustard "à l'ancienne"
1 slice Pitacou candied citron
4 mini red onions
4 mini white onions
4 garlic cloves candied in olive oil
4 spinach shoots
For the English-style breadcrumb dressing:
100 g flour
2 eggs beaten
100 g breadcrumbs
parsley, piquillo pepper, crushed tomatoes, chopped garlic, gherkins, cebette (small salad onions or spring onions), salt, pepper, capers, white balsamic vinegar.

Warning: Undefined variable $preparation in /home/clients/7f9f49aa8db02579df0da9a82d301e49/sites/fallot.com/wp-content/themes/fallot_2018/single-recette.php on line 36

Chop the de-boned pig's trotters into dices, let them melt in a sauté pan. Add the crushed tomatoes, chopped parsley, diced piquillo peppers, chopped cebette, capers, chopped garlic, then season and incorporate 50 g mustard "à l'ancienne".
Make ball shapes with the mixture wrapped in plastic film. Set aside in the fridge.
Boil the mini onions with the white balsamic vinegar for 5 minutes.
Roll the pig's trotters balls twice in the flour, then dip in the beaten eggs and then roll in the breadcrumbs.
Brown the balls (cromesquis) for 2 mins. in the deep fryer, then season them immediately.
Place a spinach shoot on top of the cromesquis. Accompany with a spoonful of mustard "à l'ancienne", the mini onions, the candied garlic cloves, capers, candied citron, gherkins and cebette.
Serve immediately.

Warning: Undefined variable $gastro_menu_3 in /home/clients/7f9f49aa8db02579df0da9a82d301e49/sites/fallot.com/wp-content/themes/fallot_2018/single-recette.php on line 48


Warning: Undefined variable $recettes_intro in /home/clients/7f9f49aa8db02579df0da9a82d301e49/sites/fallot.com/wp-content/themes/fallot_2018/single-recette.php on line 49