St. Pierre Fillet, Asparagus and Walnut Mustard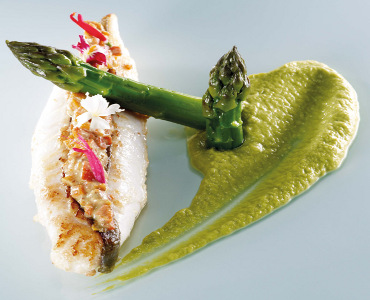 Serves 4
4 St Pierre aiguillettes
8 asparagus tips
1 bag of frozen asparagus
8 piquillo peppers chopped in small dices
1 jar of walnut mustard
salt, butter, virgin olive oil, fleur de sel (sea salt).
1- Cook the frozen asparagus in boiling, salted water.
2- Cool it down then mix it and strain it. Season.
3- Cook the asparagus tips in water, then cool them down. When setting up, roll them in the olive oil and sprinkle with fleur de sel.
4- Pan-sear the aiguillettes in the olive oil, on the skin side. Season with salt. Finish off cooking 2 mins. in an oven at 120°C.
5- Just before serving add the walnut mustard and piquillo pepper mixture to your filets.