Snails and Squid in Dijon Mustard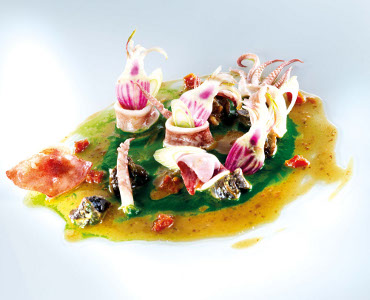 Serves 4
20 small squid
20 snails (1 tin)
a bunch of parsley
8 candied tomatoes chopped in small dices
a bunch of "cebette" (small salad onions or spring onions) chopped
? mustard
Ricard (pastis), white stock, olive oil, salt, pepper, tomato vinegar, butter
1- Clean the squid (separate the tentacles from the body, remove the beak and the cartilage).
2- Rinse the snails.
3- Blanch the parsley, drain it, squeeze it then pacotize (Pacojet) it. Freeze, pacotize 3 times, retrieve the powder and mix with the white stock. Season.
4- Pan-sear the snails in butter, flambé with the Ricard, deglaze with the tomato vinegar then add the chopped parsley at the end. Season.
5- Pan-sear the squid with olive oil. Season.
6- Thicken the white stock with the mustard. Season.