Calf's Head Seasoned with Tarragon Mustard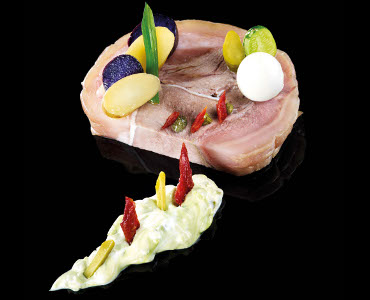 Serves 4
4 cooked rolled calf's head slices
2 Vitelotte potatoes
2 Ratte potatoes
4 quail eggs
capers, gherkins, candied tomatoes, salt, pepper, mayonnaise, Fallot tarragon mustard, butter, pot au feu or chicken stock
Cook the Ratte and Vitelotte potatoes in boiling, salted water.
Hard boil the quail eggs.
Mix the mayonnaise with the Tarragon Mustard, the capers, diced gherkins, then season.
Heat the calf's head slices in a little stock and butter. Season.
Put a calf's head slice on a plate, cover it with the potatoes, capers, dices of candied tomatoes, a quail egg and gherkins.
Set the sauce on the side of the plate, covered with gherkin sticks and candied tomatoes.
Serve.