Fallot
> Fresh Crayfish Delight, Virgin Citrus and Tarragon Mustard
All our recipes
Fresh Crayfish Delight, Virgin Citrus and Tarragon Mustard
Ingredients
Serves 4

20 shelled crayfish (claw and tail meat)
1 orange sliced in supremes
1 lemon sliced in supremes
1 grapefruit sliced in supremes
1 soup-spoon of Fallot tarragon mustard mayonnaise
2 asparagus
4 mini cucumbers
4 mini red onions
salt, pepper, virgin olive oil, borage flowers.
Method
Chop the citrus supremes into small segments.
Mix the crayfish meat with the mayonnaise.
Thinly slice the asparagus and mix with the other half of the citrus segments.
Set 5 crayfish tails on the meat, slice the asparagus heads with a Japanese mandolin slicer and place a consistent amount on top.
Place the virgin citrus on the side and decorate with the mini cucumbers, mini red onions and borage flowers.
Serve.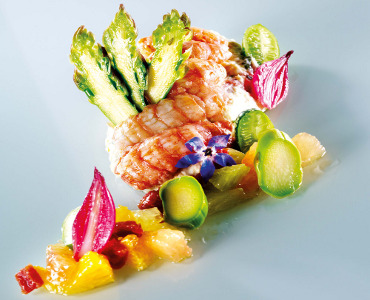 Our recipes
From dishes to plate,
the flavour is transcended!