Fresh Crayfish Delight, Virgin Citrus and Tarragon Mustard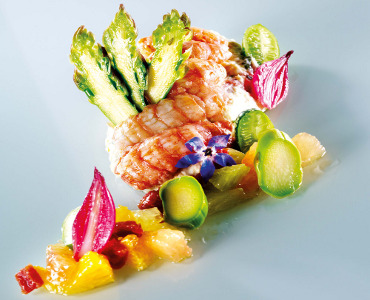 Warning: Undefined variable $ingredients in /home/clients/7f9f49aa8db02579df0da9a82d301e49/sites/fallot.com/wp-content/themes/fallot_2018/single-recette.php on line 34

Serves 4
20 shelled crayfish (claw and tail meat)
1 orange sliced in supremes
1 lemon sliced in supremes
1 grapefruit sliced in supremes
1 soup-spoon of Fallot tarragon mustard mayonnaise
2 asparagus
4 mini cucumbers
4 mini red onions
salt, pepper, virgin olive oil, borage flowers.

Warning: Undefined variable $preparation in /home/clients/7f9f49aa8db02579df0da9a82d301e49/sites/fallot.com/wp-content/themes/fallot_2018/single-recette.php on line 36

Chop the citrus supremes into small segments.
Mix the crayfish meat with the mayonnaise.
Thinly slice the asparagus and mix with the other half of the citrus segments.
Set 5 crayfish tails on the meat, slice the asparagus heads with a Japanese mandolin slicer and place a consistent amount on top.
Place the virgin citrus on the side and decorate with the mini cucumbers, mini red onions and borage flowers.
Serve.

Warning: Undefined variable $gastro_menu_3 in /home/clients/7f9f49aa8db02579df0da9a82d301e49/sites/fallot.com/wp-content/themes/fallot_2018/single-recette.php on line 48


Warning: Undefined variable $recettes_intro in /home/clients/7f9f49aa8db02579df0da9a82d301e49/sites/fallot.com/wp-content/themes/fallot_2018/single-recette.php on line 49