Rabbit cooked several ways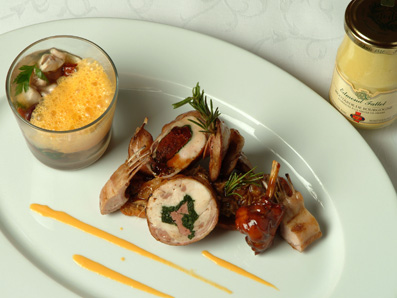 Warning: Undefined variable $ingredients in /home/clients/7f9f49aa8db02579df0da9a82d301e49/sites/fallot.com/wp-content/themes/fallot_2018/single-recette.php on line 34

Rabbit several ways
- 1 rabbit
- 3 garlic cloves
- 0.5l jelly
- 2 soup spoons olive oil
- 16 black olives
- 60g spinach
- parsley
- 80g dried tomatoes
- 1 bouquet of rosemary
- 4 slices of toast
- 1 onion
The vinaigrette
- 0.5l carrot juice
- 1 soup spoon sherry vinegar
- 2 soup spoons Burgundy mustard
- 1 soup spoon groundnut oil

Warning: Undefined variable $preparation in /home/clients/7f9f49aa8db02579df0da9a82d301e49/sites/fallot.com/wp-content/themes/fallot_2018/single-recette.php on line 36

Joint the rabbit into the following pieces:
saddle, loins, thighs, giblets, front, back legs.
Loins: clean the bones then roast them,
Thighs: Chop the thighs into small dice and poach them in the jelly. Add the olives, the sprigs of parsley and 50g of dried tomatoes cut into dice. Fill the glasses and chill.
Back legs: roast them with a little rosemary and unpeeled garlic.
Front: In a casserole, sweat the front legs and the neck with a little oil. When lightly browned, add the thinly sliced onion, the unpeeled garlic, a sprig of rosemary, salt and pepper. Cover and oven cook at 150°C for 45 minutes. Leave to cool and remove all the bones and the skin of the garlic. Mix in a bowl with the two soup spoons of olive oil and spread on crusty bread.
Saddle: Bone it completely and separate into two fillets. Roll the first with the rest of the dried tomato and tie up. Put the rabbit liver into the second. Roll, tie up and roast the two fillets.
The vinaigrette: Combine all the ingredients and mix.
Dress carefully.

Warning: Undefined variable $gastro_menu_3 in /home/clients/7f9f49aa8db02579df0da9a82d301e49/sites/fallot.com/wp-content/themes/fallot_2018/single-recette.php on line 48


Warning: Undefined variable $recettes_intro in /home/clients/7f9f49aa8db02579df0da9a82d301e49/sites/fallot.com/wp-content/themes/fallot_2018/single-recette.php on line 49