Roasted Pigeon, Morels in Fallot Hot Mustard Cream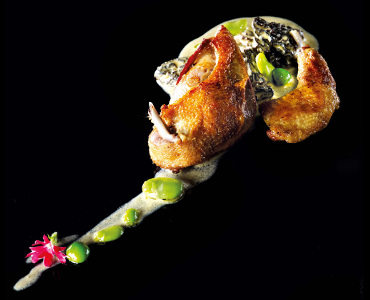 Warning: Undefined variable $ingredients in /home/clients/7f9f49aa8db02579df0da9a82d301e49/sites/fallot.com/wp-content/themes/fallot_2018/single-recette.php on line 34

Serves 4
2 pigeons of 450 g each
320 g fresh morels
120 g shelled beans, blanched
120 g shelled peas, blanched
40 g Fallot hot mustard
25 cl liquid cream
salt, pepper, butter, star Phlox

Warning: Undefined variable $preparation in /home/clients/7f9f49aa8db02579df0da9a82d301e49/sites/fallot.com/wp-content/themes/fallot_2018/single-recette.php on line 36

Gut and dress the pigeons, brown them in the butter, season and then put them in an oven at 165°C for 7 mins.
Wash and pan-sear the morels in butter, add the cream, the Fallot hot mustard and season.
Add the broad beans (served green) and peas when serving.
De-bone the pigeons, separate the pieces and serve.

Warning: Undefined variable $gastro_menu_3 in /home/clients/7f9f49aa8db02579df0da9a82d301e49/sites/fallot.com/wp-content/themes/fallot_2018/single-recette.php on line 48


Warning: Undefined variable $recettes_intro in /home/clients/7f9f49aa8db02579df0da9a82d301e49/sites/fallot.com/wp-content/themes/fallot_2018/single-recette.php on line 49