Cod in Fallot mustard with gingerbread crumbs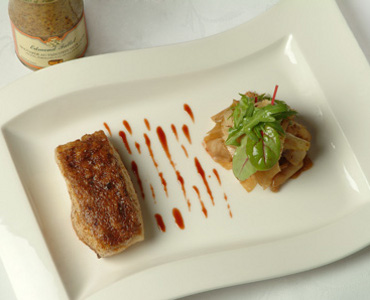 - 4 slabs of cod
- ½ onion
- 40 g of gingerbread crumbs
- 50 g of Jerusalem artichokes
- 15 g of Fallot mustard with gingerbread
- 50 g of celeriac
- 1 chicory
- 4 tablespoonfuls of meat stock
- 50 g of cauliflower
- 2 tablespoonfuls of soya sauce
- 50g of parsnips
- salt, pepper
- 50 g of turnips
- olive oil
- 60 g of raw beetroot
Peel and clean all the vegetables.
Cut the beetroot in a brunoise (finely diced) and add it to the meat stock.
Slice the rest of the vegetables thinly with a mandolin.
Roast the cod slabs with olive oil, brush them with mustard and cover them with gingerbread crumbs. Brown lightly in the oven.
Sauté the vegetables in a wok with a little olive oil, season to taste and add the soya sauce.
Arrange the food harmoniously.
COOKING TIPS
To make sure that the mustard does not dry out, put a slice of lemon on the mustard in its jar and put the top on carefully.
Always put the mustard in the refrigerator and always put the jars upright.
To make lentils tastier, add a tablespoonful of Dijon mustard to the water they are to be cooked in.